Megan Rhea Jones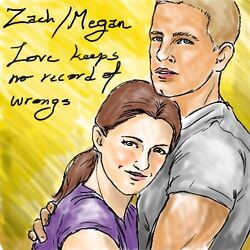 Occupation
Stay-at-Home Mother
Date of Birth
29 January 1980
Home
Outside of London, England, UK
Family
Ioan Jones and Hestia Catherine Jones , Parents
Bran, brother
Zacharias Smith
, husband (3 June 1998)
Neville Cedric
, son (29 November 1998)
Wayne
, son (2000)
Morag Hestia
, daughter (10 May 2003)
Janice
, daughter (25 December 2006)
Derek
, son (2008)
Laura
, daughter (2010)
Gertrude
, daughter (2011)
Martin
, son (2013)
First Appearance
Chapter 21: "Darkest Before the Dawn"
Megan was a member of DA during her seventh year at Hogwarts. She is now married to Zach Smith and they have eight children.
She did not take part in the Battle of Drum Ciett as she was pregnant with her daughter Morag. It is implied that she and many of the other pregnant mothers, went to help the Coven perform some counter-Sabbat magic. 
Her mother Hestia, and Neville's Alice were good friends, so there are photos of the two of them playing together as babies.
Her mother Hestia was one of the victims in A Peccatis. 
Ad blocker interference detected!
Wikia is a free-to-use site that makes money from advertising. We have a modified experience for viewers using ad blockers

Wikia is not accessible if you've made further modifications. Remove the custom ad blocker rule(s) and the page will load as expected.