Hermione Jean Weasley nee Granger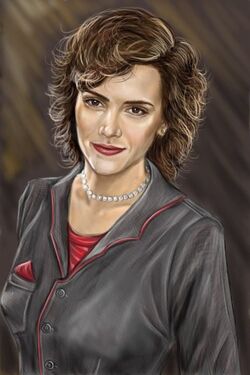 Year (1997-98)
Would have been 7th
Occupation
Auror (previously)
Date of Birth
19 September 1979
AKA
Mione, by Ron
Hermy, by Grawp
Hermy-Own-Ninny, by Viktor Krum
Family
Mr. and Mrs. Granger, Parents
Ron Weasley, husband
Rose Weasley, daughter
Hugo Weasley, son
Love Interests
Ron Weasley, husband
Viktor Krum, ex-boyfriend
Cormac McLaggen, one date
Hermione Weasley nee Granger is the best friend of Harry Potter, and married to Ron Weasley (her other best friend). Hermione she co-founded DA with Ron and Harry in their 5th year at Hogwarts. She was not at Hogwarts for her 7th year so was not part of the reformed DA, but fought in the Battle of Hogwarts.
Ad blocker interference detected!
Wikia is a free-to-use site that makes money from advertising. We have a modified experience for viewers using ad blockers

Wikia is not accessible if you've made further modifications. Remove the custom ad blocker rule(s) and the page will load as expected.