Ginevra Molly Potter nee Weasley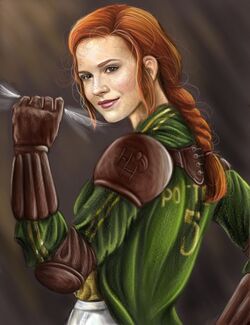 Occupation
Seeker for the Holyhead Harpies (previously), Quidditch journalist for the Daily Propher
Date of Birth
11 August, 1981
Home
The Burrow, Ottery St. Catchpole, Devon, England
Family
Arthur Weasley and Molly Weasley (nee Prewett), parents
Bill Weasley, older brother
Charlie Weasley, older brother
Percy Weasley, older brother
Fred Weasley, older brother (deceased)
George Weasley, older brother
Ron Weasley
, older brother
Harry Potter
, Husband
James Potter
, son
Albus Potter
, son
Lily Potter
, daughter
Ginevra Weasley, known as Ginny, was the Lieutenant of Gryffindor during her sixth year at Hogwarts, until she was kept home. At this point her second, Seamus Finnigan, took her spot. Ginny returned for the Battle of Hogwarts though, and joined the fighting. She was nearly killed by Bellatrix Lestrange, who barely missed her with a Killing Curse.
After the war she married Harry Potter and joined the Holyhead Harpies. Later she retired from the Harpies and became a writer of the quidditch article for the Daily Prophet. She has three children with Harry; James, Albus, and Lily.
Ad blocker interference detected!
Wikia is a free-to-use site that makes money from advertising. We have a modified experience for viewers using ad blockers

Wikia is not accessible if you've made further modifications. Remove the custom ad blocker rule(s) and the page will load as expected.