Dean Thomas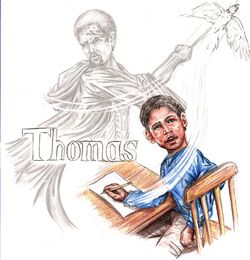 Dean would have been a seventh year Gryffindor during Dumbledore's Army and the Year of Darkness, but because he was unsure if he was Muggleborn so he fled and did not attend Hogwarts from 1997-1998. Dean was 6 when his father was kicked out because of his infidelity.
Dean liked Seamus Finnigan, since they were 15, but didn't tell him until the end of their seventh year. Seamus didn't take it very well, as put by thanfiction "...it went about as bad it could without physical violence (though that came close." Dean died during the Battle of Hogwarts, sacrificing himself to save Seamus, and not as a way to try to earn his love, it was that Seamus was his best friend and he wouldn't have thought to do otherwise.
Ad blocker interference detected!
Wikia is a free-to-use site that makes money from advertising. We have a modified experience for viewers using ad blockers

Wikia is not accessible if you've made further modifications. Remove the custom ad blocker rule(s) and the page will load as expected.