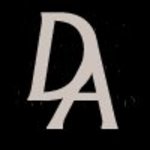 Daydverse is the universe created by Thanfiction that began with his novel Dumbledore's Army and the Year of Darkness. It continues with Sluagh and will conclude with A Peccatis, and he is considering doing a fourth novel, Oubliette. Also included in the daydverse are Thanfiction's artworks, music, short stories and other media, as well as any work by daydverse fanwriters that Thanfiction has declared to be canon. All artwork on this Wiki, unless otherwise attributed, belongs to Thanfiction and he retains sole copyrights unless he has assigned them elsewhere, which will be noted under the image.
Main Novels
Edit
Other Stories
Edit
Boys Will Be
Breaking Eggs
Chosen
Crossing Lines
Cutting Loose
Enough
En Vulgate
First Impressions
Giving One Thousand Percent
In So Many Words
In Trade
Magic
Marriage of Convenience
More Realer
Open Range
Playing It By Ear
Perils of Studying Outdoors
Praeclarus Merde
Repurcussions
Revelations
Scylla and Charybdis
Snapshots
Standing Witness
Still In The Game
Too Little, Too Late
Undying Again
Voo Ess Jolly
Wax Wings
Wisdom To Know The Difference
Ad blocker interference detected!
Wikia is a free-to-use site that makes money from advertising. We have a modified experience for viewers using ad blockers

Wikia is not accessible if you've made further modifications. Remove the custom ad blocker rule(s) and the page will load as expected.